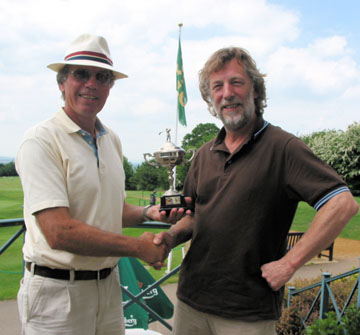 Once again, it was Geoff and Alan, who battled it out to a close finish. Dave showed some early form, but staggered over the last few holes. Sadly, he was called away and could not complete his games. With the up-and-down form of the others, he could have easily challenged at the end.

Mike was the early leader, by virtue of his new driver, which enabled him to match the power of the other three. Only two blobs over the first round and a half, gave him a commanding lead.

The rough was almost waist high and a wayward shot often saw a lost ball. Alan was most prone to error, in the early stages, but the competitor in him fired him up to produce some outstanding shots. Mike, unfortunately lost his way firing ball-after ball into the rough with a resultant massive blob score.

Geoff played a steady game, often bouncing back from blobs with superb 3-pointers enabling him to go into the last day with a small lead. With Mike falling behind, it became a cat-and-mouse battle between the Bruvs, ending in a well-deserved victory for Geoff.